Gulfstream G200 Added to Expanding Managed Fleet
–
G200 Available for On Demand Jet Charter
–
Wi-Fi equipped with business connectivity
–
Reynolds Jet Fleet Composition Now Spans Four Jet Categories
–
Provides On Demand Customers with Mission-Appropriate Aircraft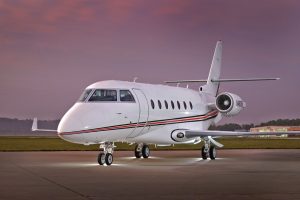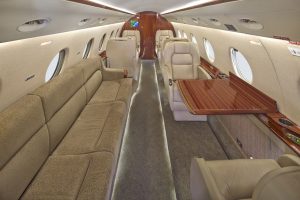 Cincinnati, July 31, 2015 – Reynolds Jet, a leading aircraft management and jet charter company, announced today that is has added a Wi-Fi equipped Gulfstream G200 business jet to its growing charter fleet. The aircraft is based at Cincinnati Municipal Lunken Airport, Ohio.
The Gulfstream G200 is world's first super midsize jet and is ideal for long-range transcontinental or transoceanic missions. With an oval cabin cross-section nearly the same as a large-cabin long-range aircraft, it is one of the most spacious cabins in its category with its 868 cubic foot cabin volume. In addition to its cabin size, it also offers the largest baggage capacity than any other contender in its category.
Capable of traveling 3,400 nautical miles non-stop, cruising at 520mph, the G200 is one of the fastest and most efficient business jet in its class. Descending from a lineage of proven efficiency and reliability, the G200 has a climb-to-cruise time of 19 minutes. Furthermore, the G200 can climb to an impressive altitude of 45,000ft, saving fuel and avoiding bad weather and traffic.
This particular 2008 G200 is configured with a nine-passenger interior, and is equipped with an approved jump seat for a third crewmember. The forward cabin has a four-place club configuration with executive tables. The aft cabin is comprised of two single club seats with an executive table across from a three-place divan located on the left hand side.
Amenities include a full galley with microwave oven, Airshow 410 inflight passenger information system, dual 16" monitors one on the forward and aft bulkhead, forward sliding bulkhead door for complete privacy, and a fully enclosed aft lavatory featuring a vanity with storage, a sink and running water and an externally serviced toilet. The aircraft comes equipped with Wi-Fi for business connectivity and, while in flight, passengers can communicate on the Iridium adhd Satcom. Additionally, the G200 has separate cabin and cockpit climate controls, which continually provides passengers with fresh air instead of re-circulated air.
Vice President, Operations for Reynolds Jet, Allan Mann commented, "Reynolds Jet is very excited to have this Cincinnati-based Wi-Fi equipped Gulfstream G200 join our charter fleet. The G200 has a proven track record in terms of performance, quality and reliability, and it will provide the Cincinnati tri-state area private jet community with a spacious, large jet cabin feel, available for midsize jet value."
Reynolds Jet now has six aircraft available for charter within its managed fleet, as this charter-ready G200 opens up yet another category for Reynolds Jet's on demand jet charter customers – the fleet now covers the large, super midsize, midsize and light cabin categories – providing them with true mission-appropriate aircraft options. To learn more about Reynolds Jet or to book a charter flight with competitive rates email Charter@ReynoldsJet.com or call 877-533-0393.
About Reynolds Jet:
Since 2008, Reynolds Jet has established itself as one of the leading private jet charter and aircraft management companies by consistently providing exceptional boutique services and unparalleled quality to its customers. Large operator expertise, systems and knowledge fused with small operator agility, focus and attention to detail are among the key drivers for Reynolds Jet to consistently outperform any other in the business. The company's operations are classified with the ARGUS International Platinum Rating – recognized as the ultimate validation of operational excellence and flight safety best practices – and holds IS-BAO Stage II registration, a set of performance-based and process-orientated standards recognized throughout the world.
Reynolds Jet headquarters are based at Lunken Airport, Cincinnati, OH and has offices in Austin, TX. It is the largest operator of Lunken Airport-based aircraft, and the Reynolds Jet managed fleet available for private jet charter currently stands at six aircraft, across the large, super-midsize, midsize and light jet categories. News and information are available at www.ReynoldsJet.com.
Information:
Tim Stanley
Reynolds Jet
+1 512.640.5055
Tim@ReynoldsJet.com