We are very proud to join a league of likeminded businesses around the world who believe they have responsibility to others, to serve not just shareholders but stakeholders and to create a positive social or environmental impact. This community of over 2,650 B Corps has one unifying goal: 
To use business as a force for good
Certified B Corporations (B Corps) are for-profit companies that use the power of business to build a more inclusive and sustainable economy. They meet the highest verified standards of social and environmental performance, transparency, and accountability.
Discover exactly what B Corps are all about in this video:
B Corp Certification is to Business What Fair Trade Certification is to Coffee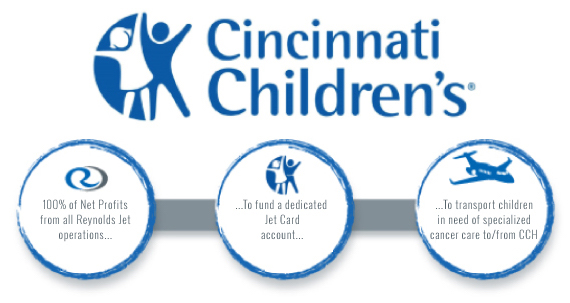 The Regenerated Reynolds Jet Mission
Mission: The services that Reynolds Jet provides to our customers through our business and operations generate the funds to serve families with private air travel to and from Cincinnati Children's Hospital Cancer and Blood Disease Institute for specialized cancer care.
Company Purpose: The purpose of Reynolds Jet, as updated in the Operating Agreement, now includes creating a material positive impact on society. The services that we provide to our customers through our business and operations – aircraft management and on-demand private jet charter rental – generate the funds to be placed on a Reynolds Jet Private Jet Card account. This Jet Card will provide private jet access for economically challenged patients of families of Children's who reside outside of Cincinnati, Ohio, and express a need for air transportation assistance for cancer care.
Frequently Asked Questions
What is a Certified B Corporation?
Certified B Corporations are a new type of corporation which uses the power of business to solve social and environmental problems. Each for-profit company within this global community meet the highest standards of verified social and environmental performance, public transparency and legal accountability.
This collective global movement of over 2,650 companies from 60+ countries and over 150 industries, has one unifying goal: to use business as a force for good.
B Corp certification is to business what Fair Trade certification is to coffee or USDA Organic certification is to milk.
Why Reynolds Jet Became Certified?
Reynolds Jet is proud to become the first aviation company – business or commercial – to achieve B Corp status. By joining this movement, it further strengthens our clear non-conforming identity and brand reputation in our industry. Most importantly however, it sharpens our focus on measuring and benchmarking, to uphold our core values of people, performance, profit and philanthropy.
How we do business is as important as the business we do, and becoming a Certified B Corporation validates our commitment and passion to making things better. Reynolds Jet has not become a charity or a non-profit organization; we are, and remain, a for-profit business. What has changed is that we are now a mission-driven business. And that mission is to place as much funds generated from both our business operations (100% of net profit) on to a Private Jet Card to provide air transportation for certain economically challenged patients of families of Cincinnati Children's Hospital Cancer and Blood Disease Institute, who reside outside of Cincinnati.
Obtaining this certification validates our commitment to making things better; better for our employees, better for our aircraft owners and private jet charter clients, and making the world a slightly better place for Children's patients. Mercer Reynolds wants to make the lives of these patients and their families that little bit easier – the traveling to and from their specialized care should be one less burden they need to worry about in such a difficult circumstance.
Why do B Corps Matter?
Certified B Corporations are leading a global movement to redefine success in business. By voluntarily meeting higher standards of transparency, accountability, and performance, Certified B Corps are distinguishing themselves in a cluttered marketplace by offering a positive vision of a better way to do business. This esteemed certification helps customers and consumers identify these Change Makers, who are competing not only to be the best in the world, but the best for the world.
How to Become a B Corp?
Companies must meet the Performance and Legal requirements. There are three essential pillars that make the B Corp Certification unique, credible and significant:
Verified Performance –

 Verified performance ensures that B Corps walk the talk. To meet the performance requirement, a company must earn a minimum, verified score of 80 points on the B Impact Assessment. This assessment examines a company's overall impact on its workers, community, customers, and environment.

Public Transparency –

 Transparency builds trust. Once certified, each B Corp must make its B Impact Report transparent on bcorporation.net, allowing the public to see the areas in which specific companies excel and compare B Corps' scores against the performance of mainstream businesses.

Legal Accountability –

 By meeting the legal requirement for certification, B Corps are better able to maintain mission as they scale, and safeguard the mission-driven goal in the future.
Who else is B Corp Certified?
The B Corp community is made up of over 2,650 companies in over 150 industries from over 60 countries with 1 unifying goal: to redefine success in business. Companies such as Patagonia, Etsy, Ben & Jerry's, The Honest Company, Klean Kanteen, Hootsuite, Luscious Garage, Tavelution, Warby Parker Eyewear, Revolution Foods, Better World Books, New Belgium Brewing Co. to name a few. And now Reynolds Jet joins this league.
You can search for companies on the B Corp website at www.bcorporation.net/directory
What is Reynolds Jet's B Corp score?
Our score is 85! And while that is a great score, we view this baseline as a solid foundation to build up over the years to come.
You can view our scorecard on the B Corp Community page at: https://bcorporation.net/directory/reynolds-jet
Can you improve on your score?
Yes! B Lab audits our practices, policies and operations to ensure that we continue to meet minimums standards for corporate governance, worker engagement, community impact, environmental impact and transparency.
We are audited every two years, and depending on how we have changed over that time, our score may increase or decrease. To be re-certified we must maintain a minimum score of 80. Through this Assessment and measuring what matters, we will manage our impact with as much rigor as our profits margin.
Where can I find out more about B Corp?